Review
Management

Service
Review
Management

Service
Establish a positive reputation for your business
Word-of-mouth marketing (WOMM) is a beneficial and often underutilised strategy to increase your customer base. Active reputation marketing takes advantage of personal recommendations and endorsements to influence potential customers and build trust. 
Our innovative review management platform gives you control of your brand identity and reputation, by giving you the ability to collect, manage and share customer reviews all from one place.
82%

of people choose a new local business based on

Google Reviews
When customers look up your business, we make sure it looks great with many positive and fresh reviews.
Enhance brand presence
Obtain increased brand visibility online with high-ranking business listings across the web.
Foster customer confidence and drive sales by leveraging authentic reviews and feedback.
Analyse, generate, monitor and share online reviews to improve your company's reputation and attract new clients.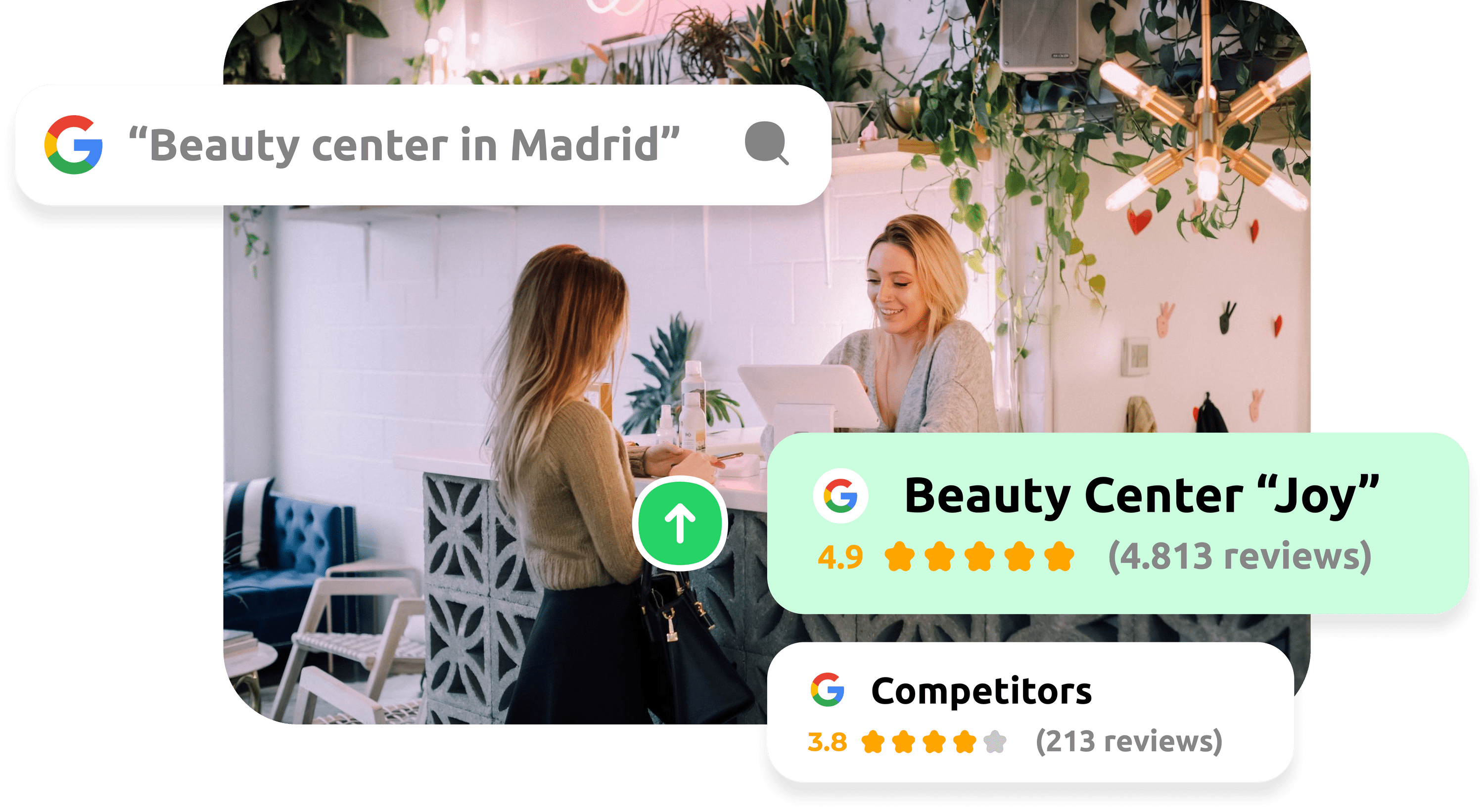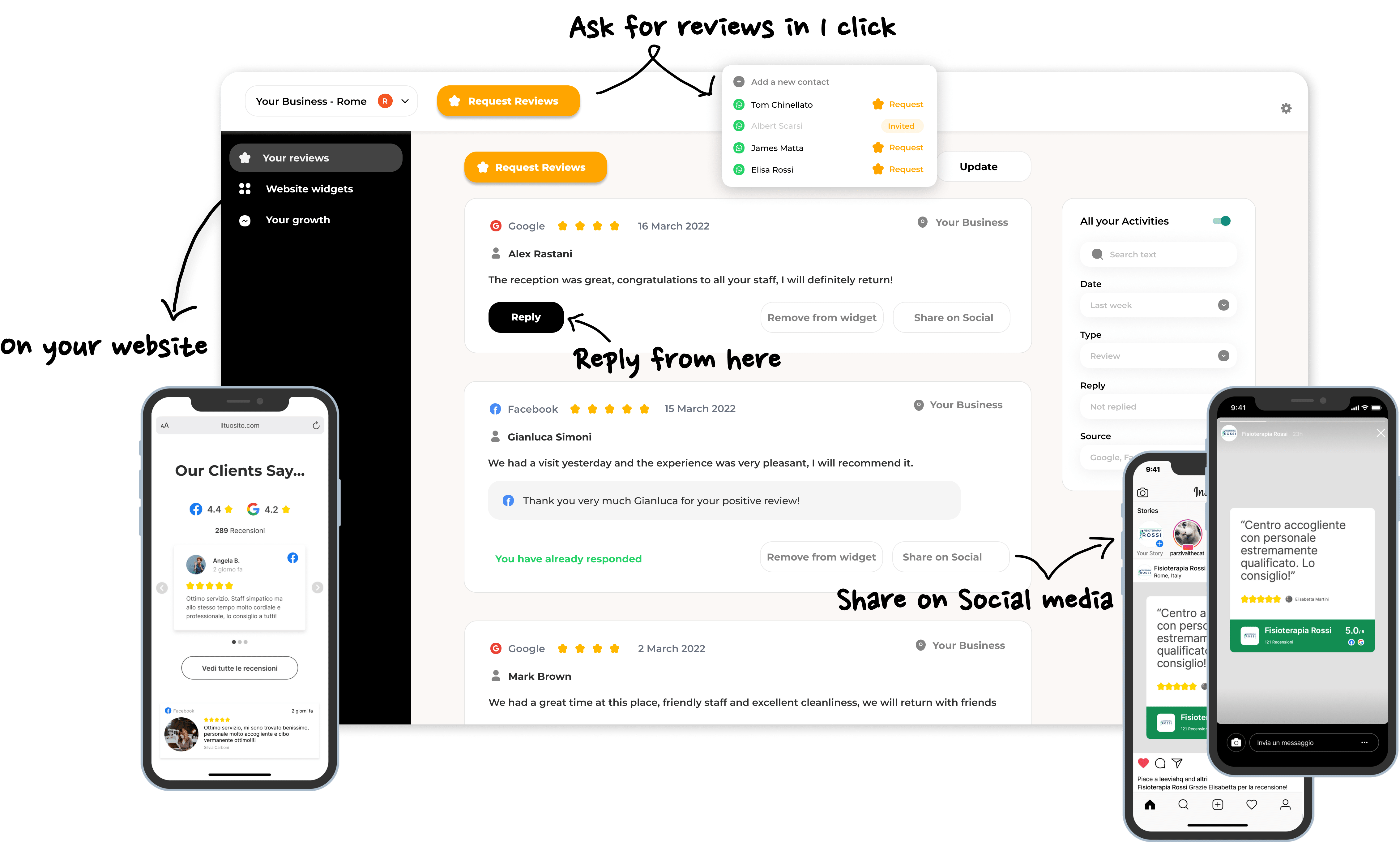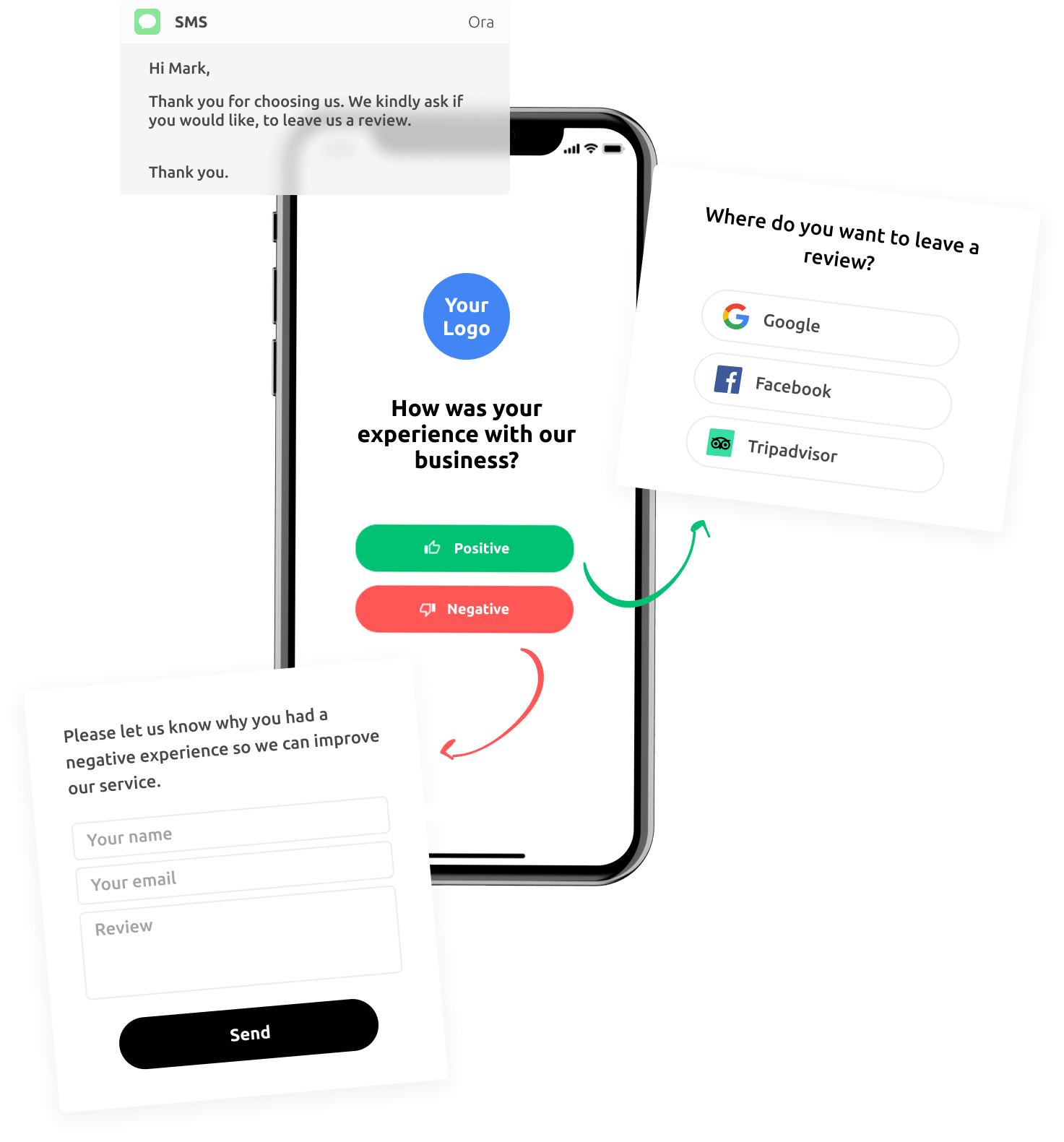 Generate more 5-star reviews and fewer 1 and 2 star reviews and steer clear of negative ones.
Our revolutionary software allows you to minimise negative reviews online, whilst maximising positive reviews. The review collection system is designed to gate 1, 2 and 3 star reviews for internal analysis, and get 4 and 5 star reviews live online.
Obtain fresh feedback by prompting your customers to review you through bespoke email or SMS, or on-site via QR code.
Guard your reputation with an optional system that catches displeased clients, ensuring negative feedback remains confidential.
Select the platforms where you'd like to boost the count of favourable reviews.
Monitor and respond to all feedback from a single location.
There are so many websites that can collect reviews for your business, and it can be difficult to keep up with them all.
Our software collects reviews from multiple sources, such as Google, Facebook and TripAdvisor, and allows you to manage them from one place.
Respond to reviews without having to switch between platforms.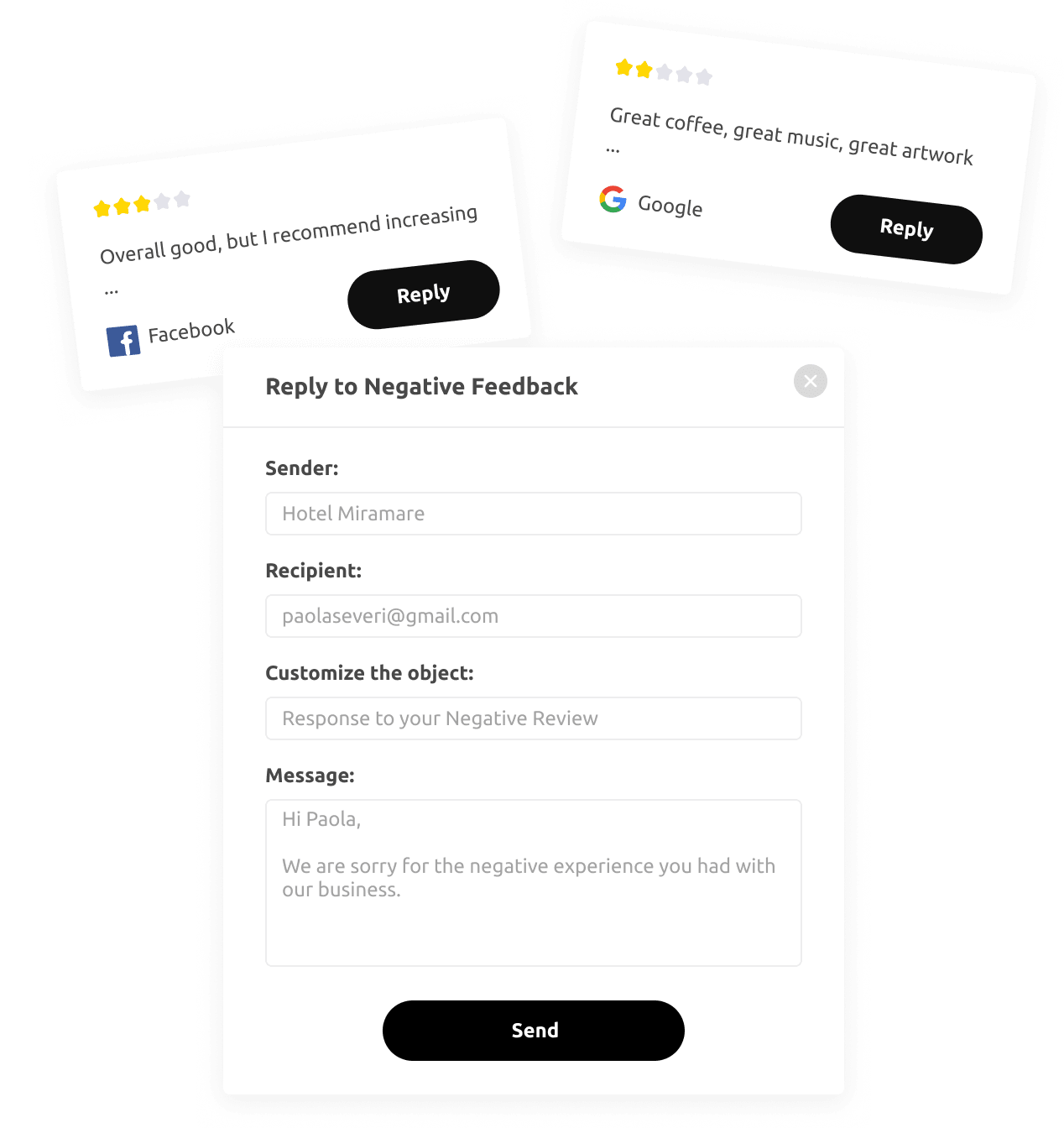 Display your finest reviews on your website and social media platforms.
Monitor growth in reviews
Track the increase in reviews across all integrated platforms in one simple report.

Auto-generate social media testimonials
Our clever platform allows you to auto-generate testimonial content for your social media channels, with customisable templates to match your brand text and colours.

Continually updated website review widget
Build a credible image by installing a widget to your website to display your 4 and 5-star reviews. The widget automatically updates with the latest reviews from across all your integrated review platforms.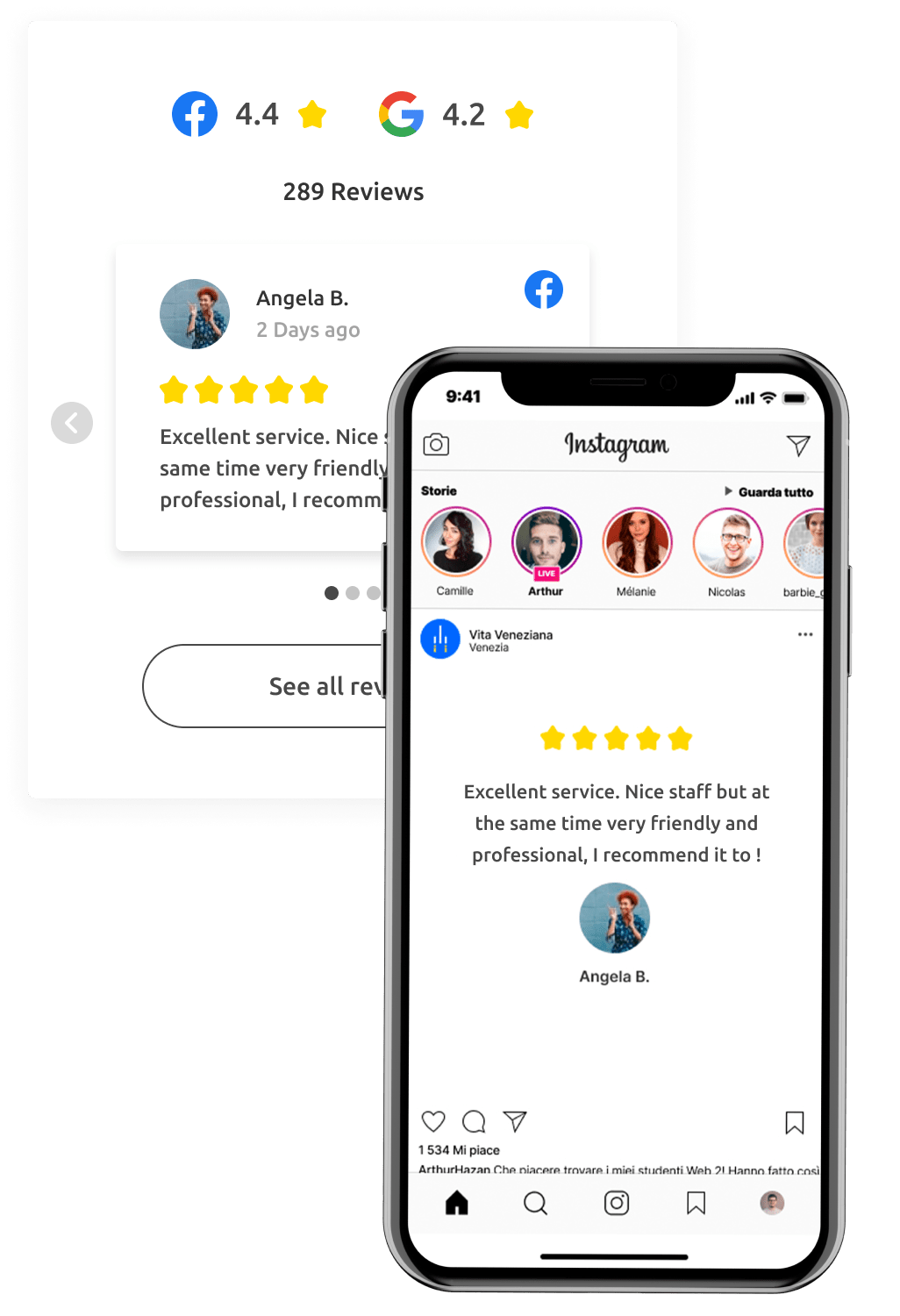 Gain upto 270% Increase in website conversions when you share positive reviews online